Policy Researcher
at
Politheor
Regan first studied at the Robert Gordon University, where she successfully completed her BA Law and Management and attained a First Class LLB (Hons), followed by a LLM in European Energy and Climate Law specialisation at the University of Groningen and a Diploma of Legal Practice at the University of Strathclyde. Following some professional practice in Scotland and Singapore, and teaching European Environmental Land Law and Delict, Regan is now entering the legal practice as a trainee solicitor in Scotland.
Latest posts by Regan Turner (see all)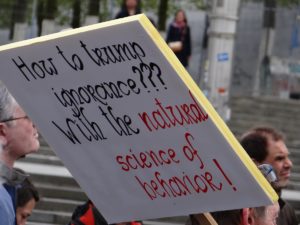 The Paris Agreement is an international agreement, where 195 countries came together to tackle climate change. The countries made voluntary pledges on how they are going to achieve their climate goals. These 'pledges' involve aiding developing nations through providing climate finance and technology transfers, in addition to greenhouse gas emissions stabilisation and reduction, thus cementing the founding infrastructure – literally and metaphorically – for continued development, whilst systematically reducing emissions.
At the beginning of June, President Trump has stated that the US is going to withdraw from the Agreement due to alleged negative economic implications on the US economy. Despite the International Renewable Energy Agency (IRENA) alleging investments by the US could result in overall cost-savings to the US economy of $30-140 billion per year by 2030, job creation, better human health and reduced emissions, the Trump Administration formally signed an 'Executive Order' to scale back on previous climate change policies.
Why is the US so important?
The US is the world's first economy, playing a central role in transferring investment throughout the world. For example, the US is the largest source of foreign direct investment for Latin America and the Caribbean in relation to hydrocarbon production. The US has a skilled work force, world leading educational institutions and multinational corporations that can drive forward innovation. Important wind, solar, geothermal, hydro and biomass resources in the world also signal the US' ability to lead the global transition, suggests an IRENA report.
Investment needs policy support
The development of renewable energy technology has undergone a huge transformation in the last 20 years, with global clean energy investment hitting $329 billion in 2015, according to the US Department of Commerce. Yet we still face intermittency, storage and supply difficulties, alongside high infrastructure costs. The International Energy Agency (IEA) reports that only three out of 26 assessed technologies remain on track to meet climate objectives. It is predicted that full implementation of the Paris Agreement will require $13.5 trillion in clean energy and energy efficiency technology investments over the next 15 years. Global investment is therefore essential to move beyond the wide cost and performance gap to the stage of being competitive without financial support.
Without concrete federal policy and financial support, renewable technology companies and investors will themselves withdraw from financing such projects. Without financing projects, we see technological stagnation. This means that the costs of renewable technology generation and storage will continue to remain high. If hydrocarbons continue to have a competitive advantage (lower cost and resilient to supply shocks), market participants with higher production costs and poor economies of scale, which are generally associated with new technologies, will eventually exit the market. In the interim, these barriers will reduce the incentive to invest, thus retaining the status quo.
Life in emission ignorance
Abandoning the Paris Agreement at the alter poses real problems for investment opportunities and technological advancement of renewables worldwide, with the blame of the break up firmly resting on Trump's shoulders.
(Visited 142 times, 1 visits today)